Description
UPDATED SET TEMPERATURES AS OF 10/11/2019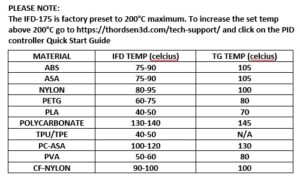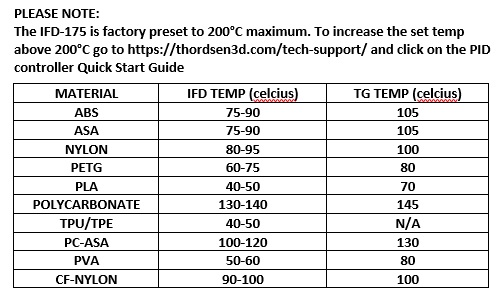 Thordsen 3D, IFD-175 systems are plug and play ACTIVE filament dryers that effectively equalize and extract 80% to 100% of moisture from 1.75mm filament as it is being fed directly into your 3D printer's hot end. They are designed to be adaptable to virtually any hobbyist or professional grade 3D printer on the market today. The solid state PID temperature controller is preset to 60⁰ C and tuned at our facility for optimal performance.  All you need to do is simply set the desired temperature for the material being used and load your filament. The PV output temperature to the dryer unit is accurate to within +/- .5⁰ C of your set temperature, providing consistent moisture control for your 1.75mm filament.
It is very effective as a standalone filament drying solution but under more extreme environmental conditions, its effectiveness can be greatly enhanced when used in conjunction with PASSIVE drying methods like baking, desiccant drying, or a dehydrator.
The IFD-175R is designed for 3D printers with a feeding mechanism that is separated from the print head. The drying element is attached to the control unit via a 36" (920mm) long umbilical that can be placed anywhere between the feeding mechanism and print head.

Specifications:
Power: 12 Volt DC 5.0 amps Maximum Output
Temperature Range: 50⁰ C to 300⁰ C
Output Accuracy: +/- .5⁰ C
Total Weight: 3lbs
Controller Dimensions: 7.5"x 4.5"x 2.5"
Package Includes:
IFD-175R Filament Dryer
12 Volt Power Supply
Cleaning Rod
40″ of Bowden Tubing
Quick Start Guide
Thordsen 3D Sticker