BELOW ARE SOME PRINTABLE ACCESSORIES THAT CAN BE USED TO ENHANCE THE USABILITY AND EFFICIENCY OF YOUR IFD-175 FILAMENT DRYER. IF YOU DESIGN CUSTOMIZATION'S FOR YOUR SPECIFIC PRINTER, WE ENCOURAGE YOU TO SHARE WITH THE WHOLE MAKER COMMUNITY ON OUR MEDIA OUTLETS AND HERE ON OUR WEBSITE. PLEASE PROVIDE THE FOLLOWING INFORMATION WITH ANY SUBMISSIONS:
STL file of your design
Picture of it in action
Print envelope specifications
Recommended print material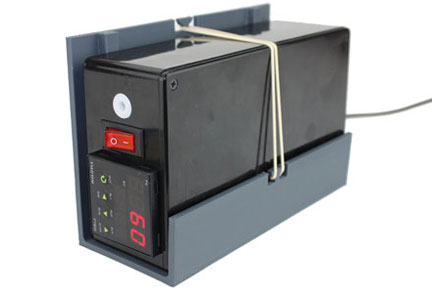 UNIVERSAL CONTROL BOX SIDE MOUNT #1
The Control Box Side Mount #1 can be attached to your printer with screws or double sided tape. The IFD-175 control box slips in on it's side. The "T" notches are for a rubber band to hold the box in place.
Print envelope: 190mm x 76mm x 124mm.
Material: PLA or ABS.
UNIVERSAL REMOTE DRYER MOUNT
This Remote Dryer Mount can be attached to your printer in the best position for smoothest feeding of dried filament into your hot end.
Print envelope: 92mm x 25mm x 35mm.
Material: PLA or ABS.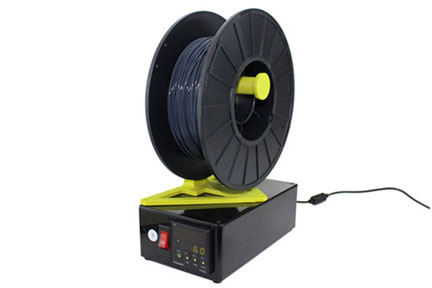 TOPSIDE SPOOL CADDY
This spool caddy mounts to the top of your IFD-175 control.
Maximun spool capacity is 2kg.
Print envelope 185mm x 146mm x 98mm.
Three #4 x 3/4″ self tapping screws required.
Material: PLA or ABS.
UNDERSIDE SPOOL CADDY
Your IFD-175S control box nests on top of this compact and stylish caddy while your spool of filament feeds into it directly from below.
Eight printed pieces.
Maximum spool capacity is 2kg.
Print envelope: 230mm x 210mm x 120mm.
Material: PLA or ABS.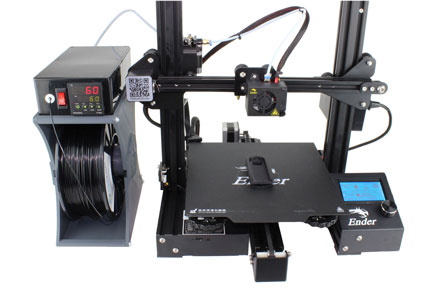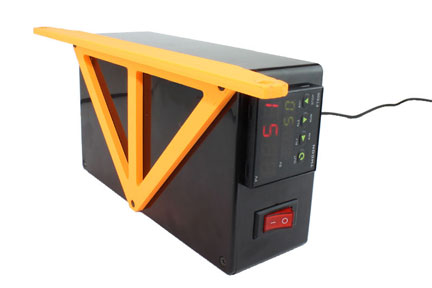 ENCLOSED CASE SIDE MOUNT
This IFD-175 control mount is designed for enclosed cabinet 3D printers. It can be attached with two screws from the top or with double sided tape.
Print envelope: 185mm x 109mm x 30mm
Material: PLA or ABS
DESKTOP CONTROLLER
Jerome B. designed this cool mount for his Robo R1 and discovered that it also works great as a standalone desktop mount for our IFD-175R.
CLICK HERE to see more pics, specs, and download the STL file on thingverse.com.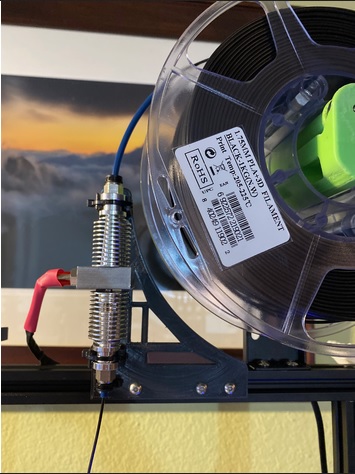 GANTRY MOUNTED DRYER HOLDER
Doug O. designed an awesome vertical dryer mount for his Creality Ender 3. The design looks like it'll work on pretty much any gantry style printer.
CLICK HERE to see more pics, specs, and download the STL file from thingverse.com
VERTICAL DRYER MOUNT
Garbiel C. Not only submitted a fantastic mount design but also had some great things to say about his IFD-175R. I operate my Ender 3 V2 in my garage. I currently don't have an enclosure and it resides on a workbench out in the open environment subject to outdoor weather. I live in Los Angeles near the beach and it is always moist here. I run my machine almost 24 hours a day and the spool of material stays on top of the machine until the material is completely consumed. I had issues with gaps, pockmarks, stringing and layer adhesion. You could hear the popping and sizzle clearly during a print. With all things in my setup being the same, this has seemingly eliminated all those issues and left me with a clean part on my most troublesome component, on the very first print! I'm impressed. My point of view has always been that this was not intended to be a miracle cure for bucket soaked filament, it is a method of assuring well respected material is consistently dry when it enters the extruder. It appears to do that flawlessly. Bingo.
CLICK HERE To download this design from Thingverse.com.